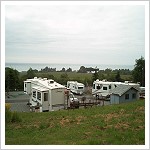 Apple Hill RV Park is located on the southern Oregon coast with beautiful views of mountains and the Pacific Ocean.
It's a very small park… quiet and peaceful. They are located right off Highway 101 that runs along the Pacific. The owners were very friendly and were eager to answer our questions.
We stayed here briefly but got the impression that this was a popular base for fishing. They promote the fact that they have plenty of FREE boat trailer and RV Parking as well as limited long term boat and RV storage.
This is a great place to spend a night on your way up or down the coast. You may find that you'll decide to stay for a day or two.