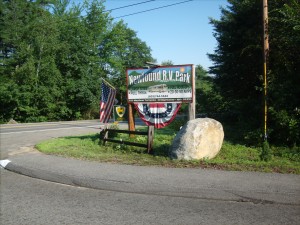 Clean. Quiet. Comfortable. You can't say much more about this campground. Newfound RV Park is located about 10 miles west of I-93, exit 23 in the town of Bridgewater, New Hampshire.  The campground is very near spring fed Newfound Lake, considered to be one of the cleanest inland lakes in the United States.We had the opportunity to stay at this campground during the first weekend of August.
Newfound RV Park is a small (45 sites) "big rig", pet-friendly campground.  Our check-in on a Friday afternoon was quick and the  attendant was pleasant and accommodating. The campground has a paved entrance, but the interior roads are gravel… wide, and well maintained. Just about all the sites here are pull-thrus… except for 5 "brook side" back-ins. Each site is level and has a fire ring and picnic table. All sites are full-hookup, some with cable TV.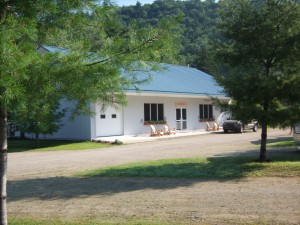 The showers, rest rooms and laundry facilities are open 24-hours a day and are very clean and well maintained. They have a large pavilion building with pool and ping pong tables and plenty of room for gatherings. We spotted a small book lending library in the pavilion as well.
They have a camp store but quite honestly is was sparsely stocked. You won't find any refrigerated items like milk or eggs so be sure to get your groceries before you get here. They do offer firewood and propane.
It's a good thing we had cable tv because Bridgewater, New Hampshire is fairly remote. Our over-the-air digital antenna did not pick up a single tv channel. They do have free wi-fi and the signal was relatively strong and seldom dropped out. Other amenities include a nature trail and a dog walking area.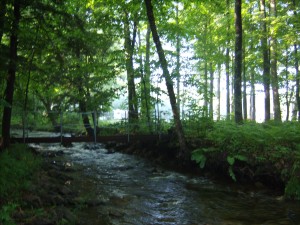 There are no scheduled activities here, and not much to do to keep kids occupied. It's just a clean, quiet, comfortable place to be. It makes an excellent base for exploring this part of New Hampshire. If you're looking for a campground to just relax and get away from it all, Newfound RV Park is the perfect place to spend a few days.