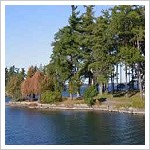 Kring Point State Park sits on a Peninsula at Goose Bay on the Saint Lawrence River. The landscape is rocky, rugged and beautiful. The village of Alex Bay is only six miles away providing easy access to the Uncle Sam Boat tours. There's so much to do in the area, our campsite was just a second thought.
The Facilities are in great shape and well cared for. The cabins and tent sites provide the most privacy and water front. RV sites are a bit tricky. We had to drive through another site to access ours because our trailer couldn't clear the rocky outcrop at the site entrance. Small trailers will have no problem. Big Fivers and Motorhomes may consider Keewayden State Park nearby with level, grassy sites.
If you travel by tent, Kring Point can be paradise for you. Most sites include Tent Pad, Privacy, and fantastic water access. Canoes, Kayaks, and small motorboats will enhance your experience. The fishing is great, license required, but you can keep what you catch!
If you're using Reserve America, don't be fooled by the map. It can be very deceptive. Everything inside the outer loop is undesireable, waterfront in the outer loop are generally unavailable. The First Loop near the beach is best, almost any site there is great.
The Boat Ramp is good with ample trailer parking with limited dock space. You can enjoy Goose Bay's flat water, or go out in the River, depends on your boat. Be prepared to listen to some parties. Enforcement of quiet rules is a bit slack, like most NY State Parks.