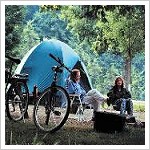 Southwick Beach State Park is a very well kept campground but it has a major flaw, high iron water that smells and tastes terrible. Be sure to bring your own no matter what they tell you. Do not use their water to refill your system, it's dark and coppery.
We stayed last September and left early. State refunds are a hassle. I suggest that you pay for one night to judge for yourself.
They have a nice beach and trails to walk. The campground manager said it would take 5-7 years for filter sand to work right.