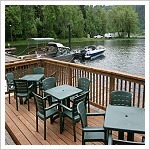 We stayed at Loon Lake Lodge and RV Resort with my husband and three children.
The rv area is set above the marina with views of the lake and has gravel roads. The kids hung out at the beach and played in the sand with their toys. The best fun we had as a family was taking out the jet skis and waverunners! The canoes and kayaks were fun to take out but you can't beat the excitement of whizzing down the lake with a jet ski or waverunner at 40-50mph!
Loon Lake is a beautiful, scenic lake set among towering Douglas pine trees and is one of Oregon's best kept secrets. The bathrooms and laundry areas were clean. Loon Lake Lodge had a small store where you could buy basic foods, snacks, and beer. The staff was helpful with getting us set up on the jet ski and boat rentals.