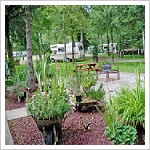 Wow, you get a free bag of popcorn when you check in! Plus the very nice camp host gives you some brochures for things to do. This park is about 6 miles south of Tillamook off Highway 101 South. I was surprised at how full it was in September, but apparently this park is popular with the fishing crowd and for RV Rallies.
The RV sites are close together, as in, your picnic table is right next to your neighbor's hookups. My slideout was a few inches from the neighbor's awning. If you can overlook this issue, this is a great park to spend a couple days relaxing.
There are lots of trees for shade. The park has a store with some canned food and RV supplies if you are desperate. The club room is charming, with a welcoming atmosphere for group parties. There is a nice large laundry area, which includes two commercial sized dryers in case you need to dry a comforter. There are five separate unisex restroom/shower areas located in the laundry area. The restrooms/showers were clean, considering how busy they were. They close the laundry/restrooms for two hours in the middle of the day for cleaning. If you are traveling with children, there is a fairly large playground in the back of the park. Cable TV had a good variety of 53 channels. Wireless worked great!
This is a nice, quiet park. Even if the "fishing crowd" fires up at 5:00 AM, this is a brief interruption and you can just go back to sleep.