Alpine RV Park – Marblemount, WA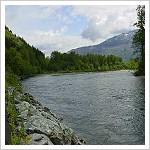 Alpine RV Park has full hookups, a laundry, and free wireless, yet cheaper than the State Parks! What more could you want? The wireless was a little slow, but at these prices ($20 per night), you can live with it! Also, you have clean air and are in a little valley surrounded by the Cascade Mountain range. On the other hand, the park has no cable TV and no television reception whatsoever. Hope you have satellite or a good book. Cash or checks only.
The park is a little over two miles east of Marblemount, which has a few "mom n' pop" restaurants if you don't feel like cooking. Other than that, not much to do except just relax, if that is what you want. Right now, this is just a very basic park. The laundry room was not very brightly lit. But on the other hand, the laundry room has a deep sink; and washing was only 75 cents and drying was 25 cents. You can't beat that! The restrooms weren't spectacular, but they were clean. The women's shower area included a bathtub with one of the showers.
A park employee as well as some teenage kids were very nice about helping me back in and getting hooked up. The sites are grassy and not level at all. The sites in the middle "open" area are pull-through. The sites on the outer loop are under trees with good shade and are back-in. Another RV'er staying here indicated that if you have satellite, you need to be in one of the "open" spots, and not the shady spots. Tradeoff. The water and electric hookups are all housed in cute, tiny, little "alpine structures."
I heard that this park is under new ownership, and those "Alpine structures" were just recently added. I also heard that one of the park employees is an excellent woodworker, and he not only built those "cute little Alpine structures," but also the beautiful varnished picnic tables for each site. It appears that there is new playground equipment for children, also built by the woodworker employee. There is a mini golf course in progress (not completed yet). Some really woodsy tent sites are in the back of the park. If the new owner makes the grandiose plans that I heard about actually happen (to include possibly changing the campground name), the prices won't be $20 for too much longer. For now, this park is just a nice, relaxing little "getaway."