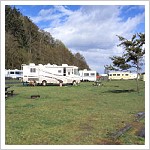 I wouldn't call this a State "Park," this is more of a State RESORT! This is a former military base that is now used as a beautiful conference and retreat center, to include RV camping with full water/electric/sewer hookups.
The RV slots are paved and long. There are two areas, "Beach" and "Upper." I stayed at the Beach campground. The sites are "back-in" at one end and "pull through" (in wide arc's) on the other end. In the beach area, if you have a back-in against the trees, you have to drive all the way to the end, then go around the "turn around" and come back in order to "back-in" to those spots. The RV slots that face the beach have only a view of the sand dunes, but it's a short walk to the beach.
This is a popular park and reservations are suggested any time of the year, although it wasn't full the weekend I was here. If you reserve on the website, you pay an $8 reservation fee. If you call the Conference center directly, you do not pay the reservation fee. The "Commons" dining hall serves breakfast, lunch, and dinner. There is also an espresso shop with sandwiches and pastries. Both are "cash only" and are rather pricey, you might as well be eating at the Marriott. The first Sunday of each month, the Commons features a fabulous Sunday Brunch between 10:00 and 1:00 for $16.95. Well worth it! If you choose to partake of the food at the Commons, recommend purchasing prepaid food cards when you check in for camping. You can pay for these cards with your credit card so you don't have to worry about having a lot of cash. This is a fairly new program. When I was there, the Commons employees didn't know how to deal with the prepaid cards and apparently had not been informed about them. The Park Ranger and the folks at the check in office got it straightened out.
If you need to do laundry, the Conference center allows guests to use their laundry building only between the hours of around "4:00-ish" PM to around "8:30-ish" PM each night. Verizon AirCard worked very well here. TV reception via antenna for the local channels was decent on digital channels, and "passable" on analog channels still out there.
Lastly, very important! If you come here off the Keystone/Port Townsend ferry, IGNORE your GPS if it instructs you to take a right turn off the ferry. Instead, follow the well placed signs and turn left. If you follow your GPS and turn right, you will end up taking a route up some steep and hairy roads. Follow the SIGNS! Great park for family outings!