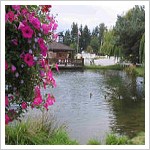 This is a small, but cute RV park located along US Highway 101. Although there is a barrier fence, you will hear some road noise during the quiet hours of the late evening. The road noise doesn't bother me, but may be an issue for someone else.
Other reviews indicate the RV spaces are "close together." To me, the spacing between RV's is average, about what I would expect for this type of park. I've been in worse for "closeness." In some places there is 2½ feet of grass width between each RV; in others, about 5 feet of grass width.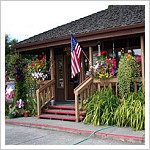 This park has 31 numbered sites and 9 "lettered" sites. Further, there are 8 "tent spaces" in a forested area. The RV sites are both pull-through and back in. The connections are placed more toward the front of the slots. If you have a big rig, you might possibly need an extension cord. For me, both my electric cord, and my 25 foot cable TV cord were long enough to reach. Although some of the sites can accommodate "big rigs," I only saw a few of them here. One big "plus" that I found is that the water faucet was covered in insulation and buried in the ground in a sand-filled container with a lid. Great for winter-time stays.
The hosts were very gracious! I got a personal escort to my site! I had only seen this twice before, in "higher end" RV resorts. Also, one of the hosts discovered that she had inadvertently overcharged me, and she voluntarily brought me a receipt for a refund of the overcharge!
The rate I am showing is "low season" rate without discounts. As of this writing, the "high season" (June – September) rate is $35. This park charges an extra $2 a night if you need 50 amp service. On the other hand, 30 amp is included in the cost. Cable and WiFi are free. The cable has a wide selection of channels (to include Canadian Channels); and if you have a digital TV, you will get some additional audio channels. The WiFi requires a code, which the office will provide. Bathrooms, showers, and laundry rooms are open 24 hours a day. Bathrooms, showers, and laundry were fairly clean. I wouldn't call it "sparkling," but they were fairly clean. The park also has propane service, always a plus. If your cell phone does not work, there is a pay phone available. And, for those with canine companions, there is a "puppy park." However, the "puppy park" is located behind the propane tank. Just hope your "puppy" doesn't have to breathe propane fumes if someone is getting a propane fill…….
If you need RV parts, there is an RV store with a good selection of supplies within a brisk walk from the park. Also, if you don't want to cook, there is a restaurant called "Flippers" that is open for breakfast and lunch only. This restaurant is also within a brisk walk from the park.
I would highly recommend this park for a good place to spend the winter (they have monthly rates in winter), or a good place to say while visiting in Sequim.