Winthrop KOA – Winthrop WA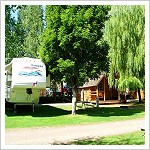 WOW. Our first impression of Winthrop KOA was just that. The sites are grassy, level and spacious. The staff was so helpful and friendly, we signed up for a third night and would stay longer if we could.
The WIFI worked at our site (2) but I don't think that is the case everywhere, you need to go up to the Internet Cafe. It is free.
The park doesn't have Cable TV, their brochure said 8 is CBS, 10 is ABC, 12 is NBC and 13 is PBS, we couldn't get any of them with our built-in antenna mostly because the park is in a hole and the reception was so weak, the TV kept cutting off. They do have videos so all isn't lost.
Hunting, fishing, hiking, biking are all available in the area. They have a shuttle that will take you to town, (about a mile away) and while its mostly tourist and antique shops, the Shafer Museum is awesome ($2. donation)and worth the trip.
The Laundramat is clean. The little store has anything you might need but if not there is a grocery store and a hardware store about a block down the road.
This is a keeper….