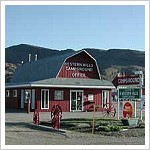 There is a "dearth" of campgrounds along Interstate 80. I stopped at Western Hills Campground to wait out a harsh snow and wind storm. The hosts were very nice and let me have "late" checkout if I needed due to the weather and driving conditions.
No landscaping, just a large gravel lot, with 30 and 50 amp. However, the office and laundry are in two cute little "barn" buildings. This resort is year round and water faucets are insulated against harsh Wyoming weather. If you have a surge protector from Camping World, you can use it here, it will fit.
There are three sections of "back to backs" that the staff told me are being converted to long pull throughs. The spots still have "two" of everything. I was in one of them, and the one thing I didn't like was that I had to cross my electric and cable cords, as well as my water hose across the sewer hose for the sewer. The other sewer connection was located under the picnic table of the neighboring slot. I'm sure your neighbor will really appreciate it if you use that one. Be sure to have disinfectant wipes to wipe off your hoses and cords.
The showers were clean, but they are only available when the office is open. The very nice and cute laundry area is open later hours and has a change machine, and special washers for extra dirty clothes in addition to other washers and dryers. However, if you are in the "full hookup" sections, it's a bit of a hike to the laundry area.
There are very nice pet areas, one of them is fenced so you can let your pet run around without a leash. Cable and WiFi were good. You are given a 24 hour code to use for each day you stay. The Wi-Fi can only be used for browsing and email checking, no large files or movies. Park was still charging "winter" rates. Rate was $23 before taxes and discounts.
This park has a very unique way of applying discounts and taxes. The Good Sam discount is $3 a day, which equated to a little more than 13%. Then, the sales/lodging tax is applied to the base rate before the discounts. Bottom line, it was still affordable.
Western Hills Campground is a good stopover while on Interstate 80.