Carlsbad KOA – Carlsbad, NM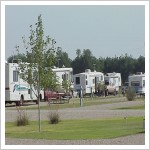 This is a great KOA park. It is a bit out of the way (about an hour from the caverns), and being in the middle of desert land can get quite windy, dusty and hot. The very nice landscaping is still very young so there is no shade.
It is also on the pricey side at $45+ per night. However, the camp hosts are probably the best we have ever run across. They are very accommodating and make you feel like you are a guest. None of this closing at 8pm and never seeing anyone again.
Don escorted us to our site, stood around and visited for a few minutes and actually had a little bottle of bleach solution that he poured on the faucet just to sanitize! I've never seen this before.
The sites are nice and level and our site had two dump valves to accommodate adjusting your rig so it?s positioned as your prefer. The playground is nice, the pool is great, the fire truck rides are cool and the restrooms are completely unbelievable. They will even deliver bar-b-q dinner to your rig (fee) if you desire.