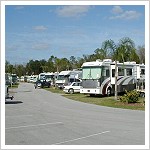 This is a relatively new campground catering to families and race fans. There's a great group of people running the park… they are friendly and eager to please. The property is close to all the action but surprisingly quiet and peaceful.
Interior roads at this campground are paved and the sites are level. Some of the sites have concrete pads. Most sites are sunny with a few small trees that afford little shade.
They have a pool and a general store with basic groceries and camping supplies. This is a good place to stay for the winter months if you're looking for something in the Daytona Beach area.