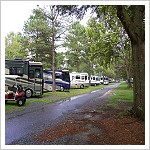 Smithfield KOA is located just off I-95 (exit 90) in Four Oaks, North Carolina. Because of it's location, it's made a great overnight stopover for us on the way south to Florida.
The campground is clean and well maintained to typical KOA standards. There is a good amount of shade from mature trees scattered throughout the property. Sites are comfortably large and they have full-hookup pull-thru sites that include free cable tv and can accommodate large rigs. They also have camping cabins, a playground, large laundromat, a nicely stocked campstore, and a large pool and planned activities in the summer months.
They also have free wi-fi, but I never get a chance to use it because most of our stays have been "arrive late and leave early the next morning".
Smithfield KOA is a comfortable, reasonably priced campground that's great for I-95 travelers looking for an easy on-off exit overnight stay. I recommend it!