Cane Creek Motorcoach Resort – Cross Hill, SC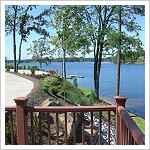 I recently took a little weekend getaway to Cane Creek Motorcoach Resort in Cross Hill, South Carolina and wanted to share some feedback about this wonderful lakeside retreat.
It was the most relaxing weekend I have had in quite some time. The grounds were impecable (gorgeous landscaping, tons of lots each situated so the owner will have a fantastic view of the lake), the property manager, Jerry, was super helpful and went out of his way to make our stay great. The clubhouse, including pool, jacuzzi and lounge will be completed by the end of March, at which time I fully intend to return and take advantage of the wonderful amenities. They also have boat rentals as well as wet and dry storage for boats brought by lot owners.
The lake is absolutely beautiful and the resort is in a great spot. Just a boat ride away from the marina and several restaurants. It is also just a few miles from Greenwood, SC which is very convenient if you are looking for a little variety.
Bottom line, Cane Creek Motorcoach Resort definitely got a BIG thumbs up from me and I highly recommend checking it out.