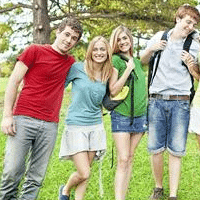 We had a great time and we have some good things to say, but we have some disappointments too so keep reading.
We stayed from July 3-10, 2009. This is an excellent weekend to go because the fireworks are good and this year they had fireworks on the 4th and 5th. This was our 4th visit. The amenities are good. Bath houses, general store, pavilions, cafe, arcade and fresh seafood/vegetable market. The pools are great and the new splash park was a hit. Live bands and bingo and other planned activates like movies, arts and crafts and whole park events like costume contests, sight decoration contests and parades. A bait and tackle shop, boat-bike-paddleboat-golf cart rental. Fun to crab a fish and they have everything you need to get started with helpful staff that knows the rules and regulations and the right way to catch you a crab or fish.
We really like Cherrystone because of the people we see every year, and this is what Cherrystone really has going for them as long as they can keep the park nice and keep the families coming each year. Every year gets better because as you meet other families you can't wait to get back to see old friends and make new. Cherrystone is for families and hard working families at that. A lot of the campers are middle to upper class small business owners and good for networking too. We've made both friends and business partners. Cherrystone has everything we need and want for the kind of vacation our family enjoys, but it's unfortunate that this year Cherrystone didn't meet our expectations.
There's something going on with the management, or assistant management. The park was in disrepair and things that were broken never got fixed. It seemed as though the only way anything was going to be fixed was for a customer to find a manager and let them know, and you had to do a little work and asking around to find a manager. One day while I was at the pool I had a lady ask me if I was part of the staff because I was picking up trash. I said no and looked around to maybe help her find someone and no one was around. This was common at the pool area. I'm not sure what she wanted.
The grass around the common areas and at the campsites you could tell were not trimmed regularly. This shouldn't be a problem considering you must check-out by 11:00am and you can't check-in until 2:00pm. This (4) hours can be utilized effectively with good management in place. The day before we left we did see a sight or two being trimmed
The bath houses could have been better. Toilet seats were not fastened properly and the showers stalls could have been cleaner. This shouldn't be a problem considering each bath house is closed for 1-1/2 hours each day. And when the bath houses are closed they're closed with the entrance roped off, allowing staff to concentrate on their tasks uninterrupted. Each bath house is closed at different times so there's always a bath house open. I'm assuming this is to accommodate the campers, but it accommodates the park staff more because it makes it possible for (1) organized and managed cleaning crew to go from one bath house to the next… again, making it possible for the crew to concentrate on their tasks uninterrupted. Furthermore, getting a cleaning/maintenance crew together to get the job done shouldn't be a problem since the bath houses are cleaned/closed during normal business/peak hours of the day i.e., 10:00 to 11:30, 11:30 to 1:00 and so on. Having the bath houses closed during these times of the day accommodates the owners so they can put the staff to work during normal business hours or straight time if you will. This does not accommodate the guests and you're walking to the next bath house just to pee because as I said when the bath houses are closed you can't get in. There are porta-potties, but try getting into a port-a-pottie with a 4year old when it's 90deg outside you can guess how clean the port-a-potties are… If you really want to accommodate the guests, close the bath houses and do a maintenance/clean to all the bath houses from 10:00pm to 4:00am every day. This would give a (4) person crew (7) 6hr days and then have mid-level management do a once over cleaning with the bath houses open just before dinner. This would allow management to inspect, check up on their cleaning crew and leave the cleaning crew special instructions for that night. You could probably contract out the cleaning if you wanted to keep them off the payroll.
I'm sure there would be problems with trying to work a night shift, but I'm a manager myself in a service providing company and any problems associated with this method I would overcome and make it work for the convenience of my guests, and with the present state of the economy good help is not hard to find. Now would be the time to hire dedicated help and new management at whatever levels are needed. And, having working employees at this time of night might not be a bad idea anyhow.
Grass was growing in the concrete seams of the pool area and the fence around the pool area had trash and debris here and there. The pump house by the splash park was painted half way and the splash park drainage was making a heavily traveled path a mud path. The putt-putt golf course needs some attention, but it was free to play this year so should I complain? Maybe not. The putt-putt golf course staff shed was usually occupied by (2) people. Not sure why. (1) Could have been doing some maintenance, but like I said….something is wrong with the management.
We plan on going for Halloween. This is an awesome time and the kids really clean up on candy. We really want to go because like I said…..what keeps us going back is the people. For the money you pay it would be nice to have some good management that takes pride in being a manager and customer service. The families are so nice that it would be worth it to have a good manager on site that everyone knows. I didn't see Hop (the manager) once while I was there and when I asked Miss Louise at the bait and tackle where he was she said he was around, but he had been across the bay on business the day before.
I'll give Cherrystone another chance this Halloween, but if I don't see an improvement I'll be looking for a new spot and if it's nice….I'll ask my friends to come along.