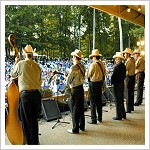 Bill Monroe's Memorial Campground is one of the friendliest parks we have been to in a long time! The host, the fulltimers & even the daytimers are welcoming and helpful. We felt right at home here.
The park is in a nice location in Bean Blossom about 6 miles from the city of Nashville and lots of great shopping. It's worth a trip to the Nashville Opry while you're there as well. It seems there's most always Blue Grass pickin' going on for free entertainment and a flea market alongside the campgrounds.
I recommend this campground to all my friends and we try to make it a regular stop every summer.