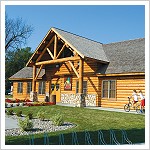 Wylie Park Campground is a beautiful, 210-acre, municipally operated property located one mile north of the city of Aberdeen on U.S. Highway 281. The park caters to the citizens of Aberdeen as well as tourists.
There are tons of recreational opportunities here including camping, picnicking and playground areas, swimming beach, miniature golf, softball, volleyball, horseshoes and miles of rambling recreational trails throughout the park. The park also has special attractions such as Storybook Land, the Land of Oz and wildlife exhibits featuring deer, elk, buffalo and a variety of birds.
The campground is beautiful. There are 92 full hook-up sites, each with a large paved pad, concrete patio and a picnic table. Neatly maintained grass areas are between each site, with some trees scattered about. Easy access for big rigs too. They also have several camping cabins.
The large Campground Registration Building features a spacious lobby and registration area along with a camp store with a good selection of camping supplies, groceries and souvenirs. There is a laundry room with six washers and dryers. Internet access is provided to campers at no charge to check their email.
Wylie Park is a great family camping and recreational opportunity. Tons of amenities and things to do in a beautiful setting!