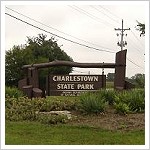 We have been camping at Charlestown State Park since 1998, when it opened. The hook-ups at the sites near the front of the park are electric only, but they are quite large compared to other campgrounds… you could easy put three campsites in one site here.
Because the campground is relatively new, landscaping and trees are still very small so there is little shade. The sites toward the bach side of the property are newer and full hook-up. It's also a lot shadier there. These sites are also quite large, and there is a lot of natural shrubs and bushes between sites so you don't have a lot of open area for an extra tent or screen house like you do at the older sites.
Interior roads are paved and comfortably wide. Navigating with a large RV is very easy. The facilities are clean and well maintained. The bathrooms are spotless and maintained several times a day! The campground personnel are very friendly and make you feel at home.
This is a quiet park with a limited number of amenities, particularly for kids. There are hiking trails, but other than that, not a lot of other activities. Most campers can be seen riding bikes, casually walking or spending time around the campfire.
Charlestown State Park is a great place to kick back and get away from it all. We recommend this park to all our friends!