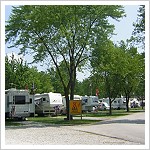 This is one of the nicer KOAs that we've stayed at in the midwest. The park has a pleasant country-like setting, located just off interstate I-70, exit 96. We stayed here while attending a NASCAR race at the Indianapolis Speedway.
After you are registered you are personally escorted to your site by a young gentleman on a golf cart who occasionally will be accompanied by the Sugar Bear, the campground mascot! The individual sites are level and many are shady, with large trees throughout the property.
This is a family owned campground and everyone in the family seems to be involved in the operation in one form or another. The campground is very clean and well maintained. They have a nice campstore with a great selection of groceries and camping supplies. There is also a small pool, pavilion and snack bar.
We plan on returning here for our next NASCAR race!