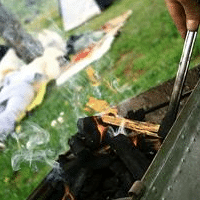 Lake Mitchell Campground – Mitchell, SD
The base cost just to "show up" is $15. Oh, did you want hookups? Well, those are priced on a "cafeteria" plan. There is a separate charge for each of the following: water, electricity, sewer, and cable. Strange, but in a way, fair. On the other hand, I don't know how closely they monitor "whether or not you paid for something versus whether or not you actually used it."
I stayed two nights, and paid for cable one night, and didn't the other night. The cable was pretty decent. Without the cable, you can pull in two channels, FOX and NBC, via antenna. No Wi-Fi, but Verizon Air Card worked very well.
The campground is pretty typical, with fire ring and barbecue grill at each site. The sites are gravel/dirt, with some grass between each site. The water connection is goofy. The water connection is dual and is placed between every other site. So, depending on what site you get, your water connection may be on the "wrong" side and you might require extra hose. I would try to avoid getting placed in sites 15 and 40. Both of those sites are near the walking path to the lake. On the other hand, site 15 does have a great view of the lake, and is the only site that does. If you want the view of the lake, then you have to put up with the parade of people going down the path. But if the park isn't busy, this isn't a big issue. Bathrooms and laundry were so so… but I do have to comment on the washers in the laundry; the washers seemed to be larger capacity than what I usually see in RV Parks. For $1.50 on a wash, I managed to stuff a lot of clothes in the washer!
There is a children's play area. This is a nice park for overnighting. If you don't tow a car, you are within walking distance of a good grocery store, liquor store (for those that need….), ShopKo, and some pizza restaurants.