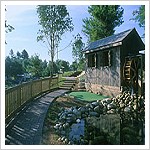 We have stayed at Sugar Ridge for the last two years for a quick weekend getaway. We own a resort ourselves and like to take our small kids on at least 1 camping trip per year. We had learned of Sugar Ridge from one of our seasonal campers and we are so happy we have found it.
This campground is very nice. We booked 2 sites overlooking the playground as we and our friends that joined us have 4 kids ages 4 and under. We had a great weekend digging in the sand at the playground.
The horse/wagon ride was a huge hit with the kids and it was a great way to see most of the campground as it is quite hilly and my 20 month old got tired quickly walking up & down the hills.
The campground is nicely landscaped and have a great/friendly staff. We are planning on making this an annual fall trip with friends to visit the Vermont Corn Maze.