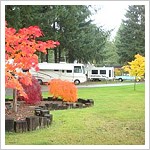 Wow, I feel like I'm in a state park with lots of trees, can't believe this is a privately owned campground. If you travel with a cat, the cat will be greatly entertained watching all the squirrels running around.
During the off season (Labor Day – Memorial Day), this campground is technically closed (no pool or showers), but they do allow self check-in as long as you are "fully contained." I got lucky and one of the owners was doing some chores and she checked me in. The price I am showing is the price before discounts. The park doesn't accept Good Sam but does take AAA Motor Club. If you use the discount, it's cash only.
You can choose from (1) full hook up, (2) water and electric only, and (3) "no hook up." Tents are allowed to use the water and electric sites, but not the full hook up sites. The full hook up sites are back-in and quite roomy, to include a picnic table and a nice fire ring. However, backing in from the roadway is somewhat tricky for some of the sites. I was in Site #7 on the left side of the roadway. It took me about three tries to back in. For Site #7, I had to back around about a 45 degree angle. It would have been easier if I were going the OTHER direction on the road, but it's a one way and you are only allowed to go that way. The site across from me would have been easier to back into.
The owner indicated that Wi-Fi is best accessed if you are close to the office, and she did her best to get me a good WiFi site. However, the Wi-Fi was still slow. If you go to the laundry room, the WiFi will work much faster. No cable, you have to use your antenna (or hope your satellite can work amidst all the trees!!!), and the channels will be a bit snowy.
The park sells propane, always a plus. There are two pay phones in case your cell phone doesn't work. The laundry area is adequate, to include a couple of nice upholstered easy chairs to do some reading. Laundry prices as of this writing are $1.25 for wash and $1 for dry, about what you would expect.
The owners are very proud of this park, and work very hard to keep this a "campground" (that happens to have hookups) and not an RV park. One thing to note: if you happen to walk somewhere (like the laundry room) right before dark, make sure you have a flashlight, as once it's dark, it's DARK! I went to the laundry room right before dark, and when I came out, I had to "feel" my way back to my campsite.
The only negative comment I have is that I felt the sewer connection was a little too close to the water connection. I recommend not connecting your sewer hose until you are ready to leave and have packed up everything else.
This is a great, peaceful place to stop for one or two nights on your travels north or south on Interstate 5, or is a great "destination" park for families.