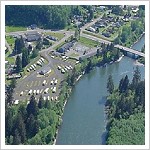 The grounds and landscaping at Hoquiam River RV Park are so-so, but the office and clubhouse appear to be relatively new and just cute!!! The laundry and shower rooms were very clean! The clubhouse appears inviting, and people were playing games and watching TV in the clubhouse. The managers were very friendly and helpful.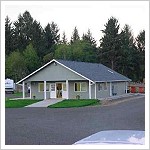 The pull-through sites are quite long! If you are in a shorter rig (30 feet or less) and get put in a pull-through, you need to park near the back of the slot. If you pull all the way to the front (as you might be tempted to do), you will be far away from the connections. I asked for a "river spot" and the managers said, "we laugh when people ask that question." There aren't any "river" spots, but it's a short walk to the river, where you can sit on some benches and enjoy the view.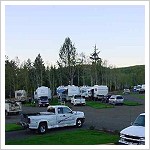 The wireless worked great! They have it locked down with an access key.
The one negative about this park is that the spots are close together in that you can look out your window to the patio and picnic table of the RV next to you. If your neighbors are eating on the picnic table, you can open your window and say, "Pass the ketchup."