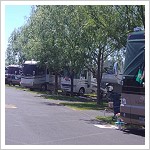 I'm sure this is a great park in the summer. During wintertime (I'm guessing this would be the period of October – March), the park has reduced services.
During winter, no one is available in the office; you must self register. During that time, you must pay with cash or check only. Also, there is a posted sign specifying that you must pay cash to get the Good Sam discount. I'm not sure if this is enforced during the spring and summer, when credit cards are accepted.
When I pulled in, I went directly to the window and self registered. Then I went back and tried to connect. First of all, the park does not have cable TV. This was a surprise to me, for a park of this size. Over the antenna, you will basically get the networks. Second, I had problems connecting to the pole (options were either 50 amp service or 20 amp service; if you have a 30 amp connector, you will need a 30/50 adaptor). I tried connecting to the 50 amp, I could not get it to work. Then, I tried connecting to the 20 amp, and discovered the plug in had been installed upside down. This created problems because the cord was "bent back" when I closed the cover to the electrical connections. So, I fiddled with the 50 amp again, and I finally got a connection. I had to turn it off and on many times to "reset" it.
Lesson learned: "Don't 'self register' until you are assured that your connections are functional!" I thought of changing sites, but figured it would cause a problem at that point. If you use this park during the winter months, it's good only for an overnight.