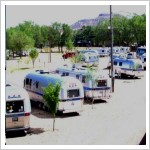 We found Cactus RV Park in Passport America. We were pleasantly surprised since it was rated a 3-Stars in Woodall's. It's certainly not the fanciest, but very clean and the campsite is pretty spacious.
I noticed that the other campers were all new, large units, so we felt we were among good company. New Mexico has few and far between campgrounds so this hit the spot.
The person in charge helped us graciously to get our camper in place. This campground is a definite 3-stars.