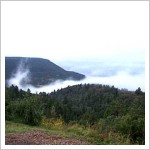 Wow, what a view! Even my cat loved it, he wouldn't budge from the windows! But one caveat, chock your tires, as you will be backed up against a very steep embankment! Also, this park is 8 miles north of Raton (about 6300 feet elevation), but those 8 miles are a very steep grade up to about 7,000 feet in elevation. If you don't get a "running start" when you drive through Raton on I-25, you will drive the 8 miles chugging at 45 mph while the RV's with Colorado plates just speed past you (probably laughing!).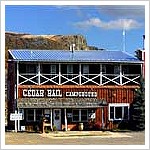 This is a great overnight stop on your way up or down I-25. Sites are all on gravel. The laundry room was clean, and the women's rest room was clean, except only one shower was in use. The other showers had "stuff" stored in them. Wi-Fi was a bit slow, but it operates from a satellite. To use the Wi-Fi, you have to register, and you get a "coupon" code good for one day. TV reception via antenna was ok, some channels good, some spotty. Cell phone service was spotty, had to walk around to find a signal. My Verizon air card wouldn't even connect. The water here is excellent!
The only negative I would say about this park is that I would try to avoid spots 1 & 2 and spots 22-24 as those spots, although they are "pull through," are located parallel along the driving area. Lastly, if you are one of those people who bought the expensive surge protector from Camping World, you can use it here. The electric poles are long enough to allow you to plug in the surge protector.