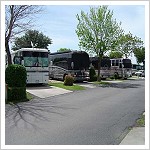 My wife and I have been camping for over 30 years and now that we're both retired we've become full-time RVers. Now that we have the time and opportunity, we plan to visit many parts of the country that we've dreamed about seeing all our lives.
One of our first trips this past summer was to San Antonio. It's a great RV destination with all kinds of things to see and do in the area. Admiralty RV Resort was our base to explore. We both feel that Admiralty was one of the finest RV parks that we've visited in the Southwest.
The park is very neat and clean with manicured landscaping. All the interior roads are paved and the sites (there are 240 of them) are on concrete pads. Each site also has a small patio. Sites are full hookups including cable TV. Amenities include a heated pool, playground and game room for the kids and a very nice store with groceries and camping supplies. They have also got a clubhouse and laundry rooms. The restrooms are very clean and air conditioned!
We don't tow a vehicle so we usually stay close to the campground or rent a car if we're staying in the area for a few days. Here we didn't really need one because Admiralty has a tour pick-up right at the park. We used it to visit Seaworld, which is relatively close by. San Antonio has Riverwalk, which is something you really should't miss is you visit the area.
All in all, Admiralty RV Resort is a very nice first class park. We're definitely coming back next year!