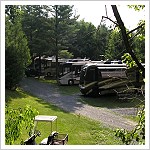 It was still early in the season when we arrived at Fancy Gap KOA so not all of the facilities were open. Not that anyone would want to go swimming in April as cold as it was.
We loved the layout of this park… each row of sites is higher up than the first row in front of it so there is never anyone in front or behind you. It makes the park feel more private.
The young man at the check in counter was helpful and funny. It seemed like he really enjoyed being there. Plus the store was an absolute gem. It didn't have everything a convenience store would have but it covered all of the basics and was really cute.
The bathrooms were some of the cleanest we have ever seen hands down. The sites were a little tricky to get level on but nothing that couldn't be dealt with.
The one thing that we could have used but didn't find here was a dog run or even a marked dog walk.
All in all this seemed like a great park with really friendly people.