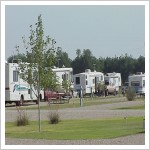 We just got back from spending a few days at Carlsbad KOA… What a great resort campground!
Calsbad KOA appears to be fairly new and the entire property and facilites are clean and well maintained. The park owners are very friendly and seem to have taken great effort to have a very attractive, well designed facility.
This campground has very large gravel pull-thru sites, with plenty of room for big rigs. The sites are surrounded by grass. They have also got a great clubhouse, nice restrooms and laundry facilities. I would guess that it gets very hot here in the summertime, especially with no shade trees to speak of here… but then again, it is New Mexico.
The campground is in a great location too! It's near the world famous Carlsbad Caverns, the Living Desert Zoo and Gardens State Park, Sitting Bull Falls, Lincoln National Forest, Guadalupe Mountains National Park, White Sands National Park and Bonita Lake.
We recommend this campground. It's the best one in the Carlsbad area.