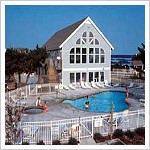 We just returned from out third stay here and really enjoyed it! Outdoor Resorts is a beautifully maintained RV park located right on the bay… and absolutely gorgeous sunsets!
This resort doesn't have all the hype associated with families and kids. There are no planned activities, no themed weekends, no special holiday events… this is just a great place to get away for some quiet relaxation. Ocean breezes and cooler summertime temperatures make this campground a special place for us.
The staff was friendly and helpful and eager to point out some good restaurants in the area. Individual campsites are well marked, tastefully landscaped and beautifully maintained. Sites are full hookups including cable. Even with our large Class A, our site was easy to access… a pull-thru onto a large concrete pad with a great waterfront view, a private dock.
The facilities here were extremely clean and well maintained. There is a ramp with access to a wildlife refuge for boating and fishermen. The refuge has a network of hiking trails. The property is very level and biking is effortless. The resort is gated and secure. Other amenities included two swimming pools and a hot tub, two lighted tennis courts, a beautiful clubhouse with health club, bath facilities with sauna, convenient beach access, and a small playground.
No Vans, Pop-ups or Truck Campers allowed and you must have an RV a minimum of 18′.
The Virginia Beach Resort area is about 30 minutes north. There's plenty to keep you occupied up there. This resort is your refuge.