Outdoor Resorts – Virginia Beach, VA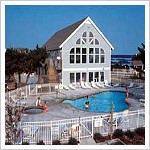 We live about 50 miles from this RV Resort and try to spend long weekends at least 5 times a year. It is the most wonderful place. Most sites here are on canals, some are on the sound, and right across the street is the beach and the Atlantic Ocean. It is paradise to me because I love the beach.
This Outdoor Resort is always very clean, has two pools where the water is always crystal clear. Everything there is just a dream. It's too bad we didn't buy a lot when we first started camping there 20 years ago.