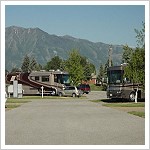 TraveLand RV Park is behind a motel that apparently changes their name a lot. The current name of the motel you are supposed to look for is "M-6 Inn." Whatever… However, there is a clearly marked sign indicating that there is an RV park behind the motel. I was following a Good Sam Trip Routing that I had made (headed to New Mexico), and I assumed (silly me) that this was somewhere near Interstates 84 or 15. Wrong, Logan is 20 miles away from the freeway. Oh well.
During the winter months, the office is not open on weekends. If you need to stay on a weekend, phone ahead and the manager will tell you what spot to pull into. I arrived around 5:00 PM on a Saturday and planned to stay two nights. The manager was very helpful but didn't want to take payment until the next morning. The next morning, the manager didn't seem too concerned about coming after me for my payment, as I sort of had to "hunt them down." But it didn't take long, and I made my payment for the two nights.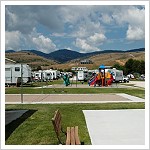 By the way, all the spots are pull-through! There is decent spacing between RV's except for the "side by side" slots, where two RV's share a post. Fortunately, at the time I was there, "side by side" wasn't a problem as the park wasn't full. Beautiful view of the mountains that surround the area!
The park is located in the more "rural" part of Logan, there is a horse farm next door. Laundry and showers were clean. Little bit of road noise at night, but not bad. Cable has only the networks and one C-Span channel. Couldn't get WiFi to work the first night, but it could have been due to the electrical storm that came through. WiFi worked great the next day!
This is a good overnight stop on your way to somewhere, if you don't mind being 20 miles from the freeway.